Read all about us in the latest edition of the Society of British Interior Designer's (SBID) eSociety magazine where we are featured in a double-page spread.
The magazine offers a snapshot of the interior design industry to date, including important industry news as well as inspirational design ideas and case studies from new projects across the globe. Viero UK was honoured to feature in such a well-respected industry magazine.
Our feature, entitled 'Taking tradition forward', was dubbed as a special report on surface finishing industry featuring an interview with our managing director Chris Walters giving insight into the emergence of Italian plaster finishes in the UK market.
He said: "Around 20 years ago, there weren't that many company's offering these types of products in the UK.
"But now, we're frequently meeting with designers and architects who have a good awareness of their possibilities."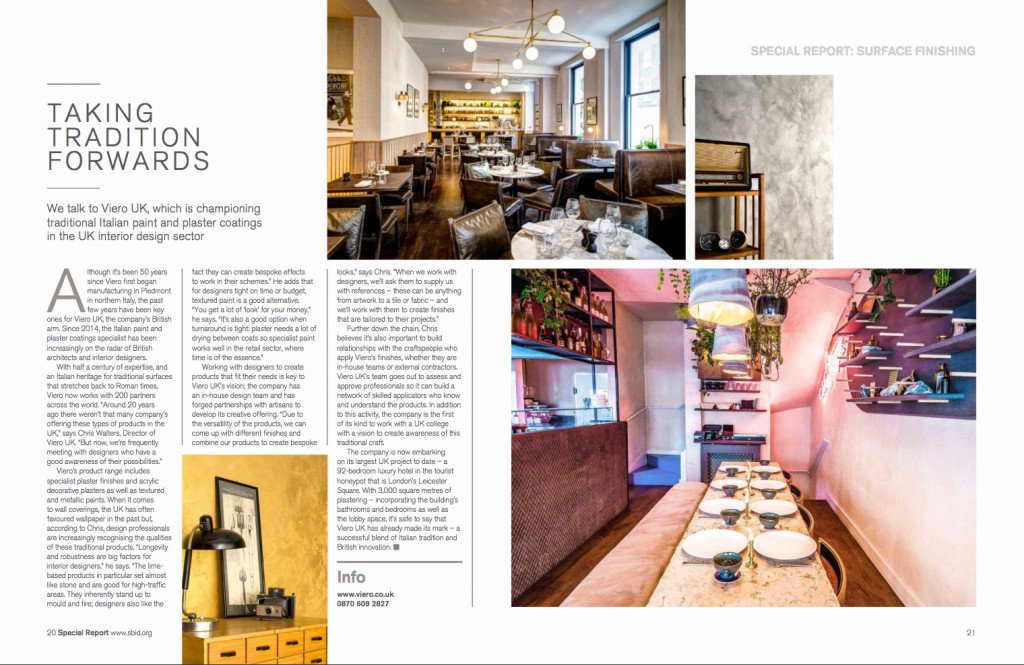 The article went on to explore a wide range of our products including Viero UK's specialist plaster finishes, acrylic decorative plasters, textured and metallic paints along with the bespoke effects that can be created.
Chris added: "Longevity and robustness are big factors for interior designers. "The lime-based products in particular set almost like stone and are good for high-traffic areas. They inherently stand up to mould and fire; designers also like the fact they can create bespoke effects to work in their schemes."
When questioned about what makes Viero UK different from the rest, he said: "Due to the versatility of the products, we can come up with different finishes and combine our products to create bespoke surfaces.
"When we work with designers, we'll ask them to supply us with references – these can be anything from artwork to a tile or fabric – and we'll work closely with them to create finishes that are tailored to their specific projects."
Click here to read the full edition of the latest edition of eSociety as well as our feature on pages 20 to 21.