As suppliers of decorative plasters, it's about more than just beautiful projects and working in some of the UK's most iconic private and commercial buildings.
Sitting behind the project and design consultancy arm of our business is the distribution division.
This is the part of the business which guarantees we're able to provide all of our clients, whether they be interior designers, architects or skilled craftsmen, with next-day delivery on our range of decorative plaster and paint products.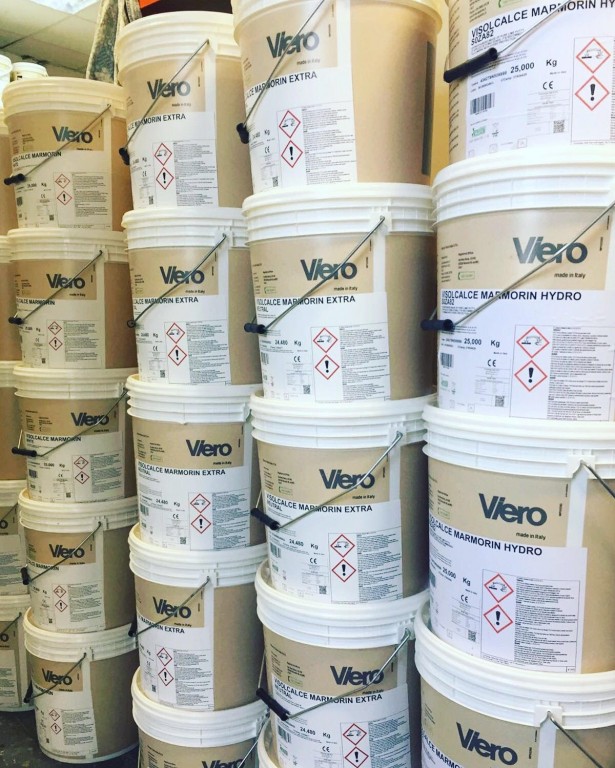 Viero UK Director Chris Walters said: "When we established the business here in the UK, we knew it was going to be very important to stock a broad range of Viero products that could be with our customers the next day. We pride ourselves on being the UK's largest stockists of Venetian Plaster, Marmorinos and decorative paints."
Meeting this goal is made possible by Viero UK's distribution hub on the outskirts of London. With easy access to the M25, A1 and M1, we are well placed to fulfil our customers' needs.
"Product is shipped to us from Italy on a weekly basis and then our distribution team are primed and ready to respond when the orders come in," adds Chris.
"We know that the industry often demands quick turnarounds, so this is as important as the quality of what we provide. It's about reliability and punctuality.
One of our biggest customers, Henry Van Der Vijver, agrees too. He said: "I like the availability, the fact that the team will deliver it wherever I need it to go, even at late notice. They help me to keep my clients happy and pull out all the stops when it's needed. That kind of service really goes a long way."