If ever you needed an example of what can be achieved through the power of learning and development, plasterer Ross Taylor is a perfect example.
Less than six months ago, he signed up to make the trip down from his hometown in Newcastle to attend Viero UK's London training course.
Today, he is proud to be on the roster as one our approved applicators.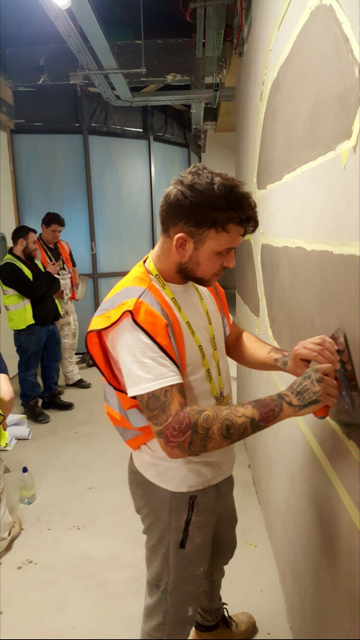 He has lived and breathed the advice and guidance given by our experienced trainers and artisans and provides the perfect case study for the robust training school we created less than a year ago.
"It's been a really good journey and an unbelievable experience," said Ross. "I'd previously attended a decorative plaster course two years ago and learned some of the basics, but the Viero course really helped to professionalise my approach.
"I came away from the weekend with 10 impressive sample boards which I could use to show clients and have delivered projects in nightclubs and cocktail bars back home."
Our creative director Jason Ebers was so impressed with Ross and his work, he was later selected to join the team at our recent project at Manchester Airport. Ross said: "The Manchester Airport experience was even better and an extension of the training, learning how to become even more creative with the finishes.
"It gave me a few solid days to work with experienced applicators and pick up lots of additional skills."
Following this job, Ross has now been accredited as an approved applicator which means he will be asked to work on more of the company's large-scale jobs as well as deliver his own independent jobs through his business Stucco Interiors with official licencing from Viero UK.
Delighted with his progress, Ross added: "I'm a plasterer by trade. I've been doing it for 10 years, but I've always had a real interest in the Venetian work because you can see a job through to completion.
"I suppose I like to be the last person on a job, delivering the final touches and putting a smile on a customer's face."
If you like Ross' story and would like to begin your journey to becoming one of our approved applicators, email training@viero.co.uk to get started.